Corporate Social Responsibility (CSR) is about how we as a company operate in an ethical and sustainable way and deal with our environmental and social impacts
People Come First
The Ferring Philosophy places people at the heart of what we do. We will address the needs and support those on whom we have an impact in the communities where we operate. Our philosophy and values determine not just what we do, but how we conduct ourselves in the marketplace, with our patients, employees, regulators, business partners and local communities. We aim to listen with respect and act with integrity.
Environmental Impact
Annually, air pollution across the UK causes an estimated 40,000 early deaths and affects the daily life of thousands of people. Harmful levels of air pollution are found in all major cities in the UK. Air pollution affects everyone, from the unborn baby to old age. It can trigger strokes, heart attacks and asthma, increasing the risk of hospitalisation and death. Pollution is also linked to cancer, premature births and stunted lung growth in children.
"In the 21st Century we can all make a difference as we have access to the technology and the tools to clean our air. All we need is leaders to be brave enough to act."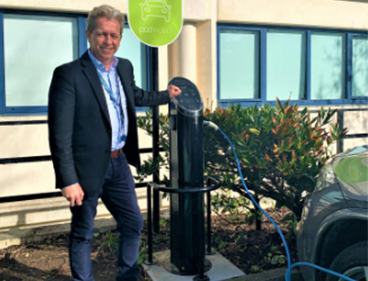 Clean Air Project
The Ferring UK Leadership Team discussed their CSR initiatives and decided to review the environmental impact Ferring UK drivers were making to the community. This initiative also followed the UK Government's 'Clean Air Act' which was created with the aim to tackle air pollution. One of its aims was to reduce concentrations of nitrogen dioxide (NO2) around roads which are primarily produced by diesel road vehicles.
How We Reduced Our Impact
We decided to limit the choice of cars employees could order to those with lower Co2 emissions and 6 electric charging points were installed to offer free charging for employees, visiting sales force and guests.
17% of employees now drive hybrid cars – with an aim to increase this to 50% within next 3 years. Each hybrid / electric car driver has reduced Co2 emissions from 5.6 to 1.97 tonnes on an annual basis. A 65% reduction in Co2 emissions per driver per year.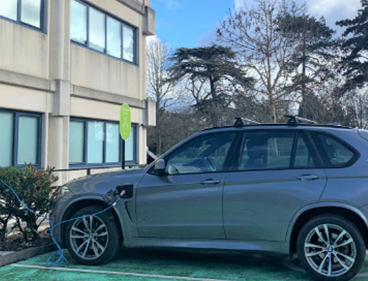 We are not limiting ourselves to just one project and Ferring UK will find ways to contribute further with the support of the leadership team and Sean Davis, General Manager at UK affiliate – who has a company Hybrid car which reflects his passion for CSR
"At Ferring we will continue to find ways to create a positive impact in the future through driving efficiencies in our supply chain, renewable energy for our offices, minimising wastage, ethical packaging, reduction in plastic use etc."