About Ferring Pharmaceutical Ltd
The Ferring Group is a privately owned company which was first founded in 1950 in Sweden by Dr. Frederik Paulsen. It has a global turnover in excess of 1.2 billion (Euros) with ambitions to reach turnover of 3 billion by 2020.
Ferring now has a presence in more than 60 countries and a workforce in excess of 6,500 employees worldwide. Our presence spans America, Europe, the Middle East and Africa, and Asia Pacific. It currently has production sites in ten countries (Argentina, China, Czech Republic, Denmark, Germany, Israel, Mexico, Scotland, Switzerland, India and the USA). Ferring also has its own Research and Development centres (in China, Denmark, India, Israel and the USA). Ferring currently distributes its products in more than 90 countries.
Further information about the Ferring Group is available at www.ferring.com.
Ferring UK
Ferring in the UK was established in 1975. Today Ferring UK employs around 100 employees and has an annual turnover of £73m.
Business is focused on the following therapy areas:
1- Reproductive Health
2- Gastroenterology
3- Urology, Endocrinology and Men's Health
The Ferring Mission Statement
Driven by its entrepreneurial spirit and enabled by a decentralised organisational setup, Ferring will harness its world-class competencies in science and business with other innovative technologies to create solutions for patients and doctors. By developing an understanding of people's needs, we will deliver personalised healthcare solutions, integrating pharmaceutical products with diagnostics, data, devices, education and support services to optimise health outcomes.
Ferring will be the world-leading, most trusted healthcare company in reproductive medicine and women's health, and a leader in speciality areas within gastroenterology and urology. Each of us at Ferring will contribute to providing innovative solutions to help people live better lives. We will devote significant research and development investment to new therapeutics, life cycle management and next generation healthcare solutions.
As a privately owned, specialty healthcare company that operates globally, Ferring will grow revenues at a rate that is 50% faster than the industry average. We will strive for efficiencies in our business and create flexibility to invest in opportunities to build our future.
We are, and continue to be, part of a transparent and aligned company. We strive to best address the needs of patients, stakeholders and customers by collaborating across functions, experimenting and sharing our practices, and continuously learning. We are always guided by the Ferring Philosophy.
The Ferring Philosophy
Our philosophy, 'People come first at Ferring', is the cornerstone of our business and our approach to CSR. It sets out what we expect of ourselves (towards our patients, employees, physicians and partners), as well as the expectations we have of those who make up the Ferring community
Our Corporate Social Responsibility
Corporate Social Responsibility (CSR) is about how we as a Company operate in an ethical and sustainable way and deal with our environmental and social impacts.
Annually, air pollution across the UK causes an estimated 40,000 early deaths and affects the daily life of thousands of people. Harmful levels of air pollution are found in all major cities in the UK. Air pollution affects everyone, from the unborn baby to old age. It can trigger strokes, heart attacks and asthma, increasing the risk of hospitalisation and death. Pollution is also linked to cancer, premature births and stunted lung growth in children.
In the 21st Century we can all make a difference as we have access to the technology and the tools to clean our air. All we need is leaders to be brave enough to act.
The Ferring UK Leadership Team discussed their CSR initiatives and decided to review the environmental impact Ferring UK drivers were making to the community.
This initiative also followed the UK Government's 'Clean Air Act' which was created with the aim to tackle air pollution. One of its aims was to reduce concentrations of nitrogen dioxide (NO2) around roads which are primarily produced by diesel road vehicles.
What did UK Ferring do to support 'clean air project', find out in our summary of Annual Report:
CSR – Annual Report published in June 2018
We limited the choice of cars employees could order to those with lower Co2 emissions.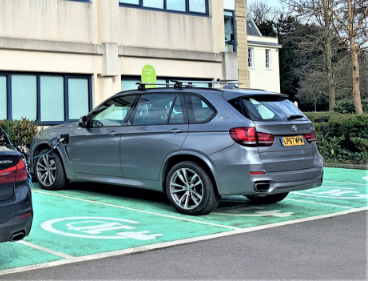 6 electric charging points were installed to offer free charging for Head office employees, visiting sales force and guests
17% of employees now drive hybrid cars – with an aim to increase this to 50% within next 3 years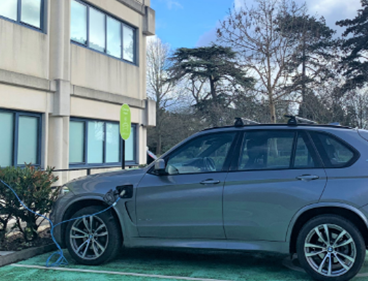 For 2019 we amended our car policy to choose from a wider range of hybrid and electrical cars
Each Hybrid/ electric car driver has reduced Co2 emissions from 5.6 tonnes to 1.97 tonnes on an annual basis. A 65% reduction in Co2 emissions per driver each year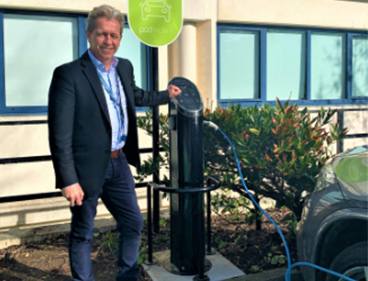 We are not limiting ourselves to just one project and Ferring UK will find ways to contribute further with the support of the leadership team and Sean Davis, General Manager at UK affiliate – who has a company Hybrid car which reflects his passion for CSR.
At Ferring we will continue to find ways to create a positive impact in the future through driving efficiencies in our supply chain, renewable energy for our offices, minimising wastage, ethical packaging, reduction in plastic use etc.